Share
I wrote this piece in March of 2020, when we were just starting to experience this particular set of circumstances, these "interesting times." I offer it as it is: a souvenir of sorts.
Last fall (2019), I travelled to Venice to celebrate my birthday, check out the 58th Venice Biennale: May You Live in Interesting Times and as an extra bonus, meet up with my parents who had spontaneously decided to travel to Venice and Florence for my mom's birthday. It was so nice to experience one of my favorite places with my folks again. After all, I first visited Venice and other places in Italy with them. That particular childhood trip ignited my serious love for the country and inspired me to study Italian in college.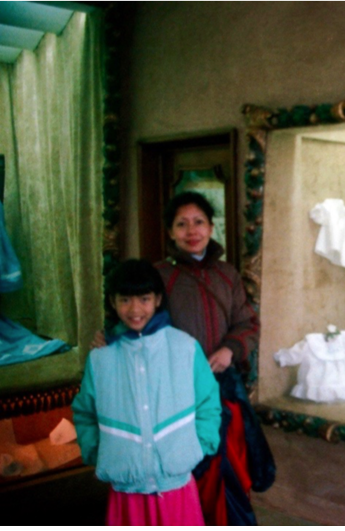 As a large part of Italy's cultural heritage is its fashion, knitwear, and textiles—all drawing from generations of expertise, specialization, and handicraft—it's inspiring and edifying to be there, where it permeates daily life. I love the way people dress—themselves and the shop windows—such a play of materials, textures, color, and pattern.
I've always been drawn to all things related to textiles, craft, and artisanal work, perhaps because of my maternal family's work as costureras—designers and makers of custom clothing. I taught myself how to crochet when I was little; my mom tried to refine the way I hold the crochet hook but I stuck to my improvised cramp-inducing, claw-like grasp.  
On the island of Burano, lacemaker Annamaria Tagliapietra showed me her technique and shared the craft's centuries-old traditions. Each type of knot or stitch spoke of one of the islands: this knobby one was Burano, the rounded one with spokes like bridges was Venezia, and so on. Somehow, we found a way to communicate through our shared love of knots and handicraft.
Annamaria's pride and passion in her work was palpable, and she showed me each piece in her shop and told me how many hours, days, and weeks they took her to make. Burano lace is entirely composed of knots, with a thread knotted onto a base thread. It is still entirely made by hand with a needle and thread as it was when Italian lace, punto in aria (stitch in the air), was first recorded in 1528. It is considered the first true lace as it is constructed separately from fabric and not worked onto it. 
This is an art that hasn't been picked up by younger generations. It was so lovely to meet Annamaria, see her working, and admire her intricate and precise lace creations in person. Her dedication and enthusiasm for lacework reminds of my own grandmother and aunts' love for their craft. 
On the way back to Cannaregio from Burano, I came across a small atelier nestled in one of the streets leading back from the vaporetto (Venice's public water bus) station. The beautiful boxy linen garments painted with black linear patterns in the window were lit up like artwork, the striking work of Alessandra Micolucci. As her social media states, she "was born to dress dreams." The clothing is timeless and just begs to be worn and touched, as it's made of sumptuous but strong fabrics. Alessandra makes pieces that contain dreams and stories of this world: the materials are woven in Italy and painted with patterns inspired by tales of a loved one's travel in the African continent or colored with locally grown and collected dyes, such as the skin of the pomegranate.
She only works with natural, organic fabrics: cotton, hemp, linen, nettle, wool. "I like to work with materials that respect the earth. When something is grown organically, it also respects the body. When you wear something that is not natural and made from synthetic fabric, every time you wash it you throw some pollution, some microplastics into the system."
Alessandra grew up in Venice and studied fashion, pattern making, and tailoring in the city. She opened her boutique/atelier in July of 2019 and has been designing her own line since 2015. Prior to starting her label, she spent two years at Diesel and four years at Marsèll. Everything passes through her hands: she paints the textiles herself, and does all the pattern making, tailoring and sewing in the atelier. She designs the knitwear and collaborates with a local producer, but aside from this, everything is done in-house, by Alessandra herself.
The collection—a long coat with a matching belt, knit and hand painted pullovers, and various caftans, culottes, trousers in tones of cream, white, grey, and black with graphic stripes—demonstrate her razor-sharp vision and dedication to an independence of thinking and dressing. All of the pieces can be combined with each other in various ways and integrated into one's existing wardrobe with ease. This is clothing for "a woman who does not need something that fits [closely] to her body in order to show her femininity. She is confident and free, with clothing that doesn't mark or define every part of her."
Since making the move to only sell the label through her own boutique, Alessandra is able to design her collections more freely and she has cut out the middlemen. She prefers working for herself, outside of the industry's hierarchal structure. This frees her to focus her energy on the creative and practical aspects rather than chasing after payments, for example. And because she is in direct contact with her clients, she can offer made-to-order pieces and continue in the artisanal tradition she holds so dear.
This is integral to her guiding vision: to remain in Venice, "this city we all love," and work with the people who are drawn to the shop "because they like my particular style and would like to have clothing handcrafted by me." It is not an easy task, Alessandra points out, as so many artisans are vanishing from the city. Being an artisan runs in her blood. Her grandmother worked as a theatre costume maker in Venice and is "probably why I am doing this." Living and working in Venice in these time-honored ways are bound up in Alessandra's work, as much as all of her materials are made in Italy and then transformed in her hands.  
Only a few days after we met and spoke, the city experienced the worst flood in 50 years. It was devastating to witness. Alessandra sent me a video of her flooded atelier, and shared that so much was ruined by the water and would have to be remade. Having sat with her as she meditatively painted thick black lines on some beautiful grey woven fabric, with a steady and sure hand, I know how much time, energy, and love is breathed into each piece, destined to dress some lucky person's dreams.
And she started again, coaxing a reverie into reality with hand-dyed and hand-painted textiles, all natural, organic Italian materials, creating beautiful silhouettes that allow the wearer to breathe, to fly through the fields, to stride through the streets, no matter her body type, no matter her age.
_____________________