Share
Asmaa is a cultural curator and the founder of Sboutiful, a pop-up shop concept celebrating unique, handcrafted, sustainable, and ethical African fashion. Asmaa is vital to the cultural scene in southern Germany. She has started many initiatives and organizations and founded UMOJA, "an intergenerational [collective] of Black, African and African-diasporic people working for the empowerment of Black people." A first-generation German of Moroccan heritage, Asmaa has lived in Costa Rica, Mexico, South Africa, and most recently Senegal. If it was under five or six months "it doesn't count," but she's spent a few months in New York and "there was also southern Africa and East Africa."
Asmaa and I met in be'kech in Wedding, Berlin last fall, a few days before she moved from Mannheim to Dakar. Louna, one of the cofounders of be'kech, "an epicenter of all things cultural, social, and entrepreneurial," is Asmaa's sister and she introduced us. Asmaa kindly made time to chat about Sboutiful, her projects in Mannheim, and her new endeavor before heading to Senegal.
Luckily for those in Berlin, Asmaa is back in the city this month to preview her latest project with Thierno Diallo of Wear Fula called Sboutiful'A—an amalgamation of their individual projects' names. This piece has been updated to reflect the evolution of Sboutiful'A and Asmaa's experience of living in Dakar these past four months.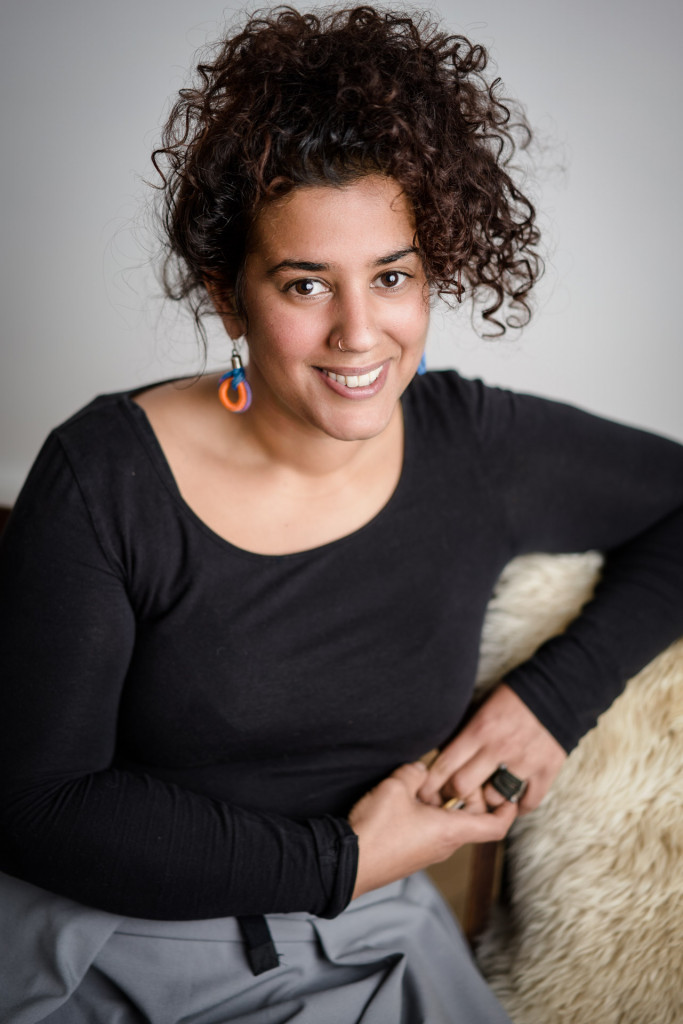 How did you get into working specifically in African fashion?
The idea came after I moved back from Cape Town, South Africa ten years ago. When anybody thinks of South Africa now, [they think of] Camp's Bay and all these rich White areas. That has to be said.
I lived in Cape Town for one and a half years. I studied economics in Germany and then I went away. After I understood the whole system of economics, I decided I didn't want to work in that field at all. But then I started working at my first (and last) job in economics in South Africa, my first nine-to-five job. I was just inspired by the lifestyle of being who you are and living the way you are and of course I was shocked by the whole system of apartheid. I didn't know much. That's what I do if I travel somewhere or live abroad, I don't inform myself—I'm just trying to be a local. I had that advantage of being [seen as] a local in South Africa.
I came back to Germany and felt there was something missing inside of me. I had started a project with a Sudanese friend in Cape Town called CREEYATE, an art space with three floors with all the graphic and fashion designers on one floor, then music, then dance. We realized because of the apartheid system that if there is something in common, especially in the arts field, there at least isn't straight racism. When we bring things together and do this kind of empowerment and anti-racism, sometimes it works to talk about people's feelings through art. The project didn't work out but I still had the idea in mind when I returned to Germany.
I thought of starting it up again, because I had met so many photographers, designers, fashion designers, dancers, and musicians—so many amazing and really unique artists. Of course they were not in Germany so my idea was to start an art cafe with pictures from the photographers (what you'd call a concept store now) and create a space for an exchange program for the dancers, musicians, and all the other talented artists out there. I [strive to be] a truly intersectional curator.
A friend in Mannheim had a bike store, a Berlin kind of bike store, in a backyard. In Mannheim this is unique. He wanted to create a community in a different way. After two years he said, 'Asmaa, I've been listening to your stories and your dreams all this time. When are you going to start?' All these entrepreneurial fears came up. 'I don't know how to start.' He said, 'Listen, I'll give you this corner and you can do whatever you want with it.' 'Okay, I'm going to start with fashion.' That's how it started. I got in touch with friends from South Africa who recommended other designers to me, and they sent me look books. I thought, 'Okay, what do I like?'—because this is what I can sell best. What would be interesting for the European [segment]? A mix of African and European ways not for White people, but rather for people of the diaspora who identify themselves as African even more, especially with fashion.
I was speaking about Sboutiful at startup events and symposiums and realized that fashion or clothing really does something to you. For example, if someone wears a suit or high heels, the whole body language changes. You actually straighten your posture and feel more confident—in your skin and in your thing. If you get the courage of self-love through what you wear, then why not create your own style, hopefully with items from Sboutiful?
I like to play around with this—that's how I got into the whole process. I started using only fashion—what fashion has to do with your self—and going even deeper. Let's say you have African [heritage] or are of African descent—this is about loving and respecting your heritage and showing it through your own individual style. We can go deeper and say [that with fashion] you position yourself as a Black person and you are proud of it. So the [styling] process goes through the whole statement, inside out actually.
So taking control of your identity and expressing it and truly being seen the way you want to be seen. Yes.
That came through making certain designers available in Mannheim, which is not the most diverse city—or is it?
I worked on a project that ran for two years called the Mannheim World Heritage. Actually in a city with 360,000 inhabitants, we have 172 nations. It is a very diverse city, but one unfortunately owned by White people who call it 'diverse' but are not ready to make space for us—hence the projects and curation I initiate. This is going to change!
Why is Mannheim so diverse?
That is a damn good question. The elite University of Mannheim with the [high-ranked] Economics studies and the Pop Academy Baden-Württemberg, the first and only public university where you can study pop music in Germany, are there. It is also very close to Strasbourg, France. Next door in Ludwigshafen there are a lot of African diasporic people or Africans in general but it is in another state. We have the states Baden-Württemberg, Rheinland-Pfalz, and Hessen, and we are in the middle so that is one mixing point. Mannheim also has a history of working class immigrants. Ludwigshafen has BASF, the biggest chemical city in the world and most people working there live in Mannheim or in Ludwigshafen.
Sboutiful evolved from a physical space within a concept store into a pop-up concept that you travel around with. Where was the last place you brought it?
Before I started working with fashion, I was freelancing in the cultural field, project leading for different cultural institutions. I had a pop-up store for one year at the bike store in Mannheim and one year at be'kech in Berlin, then I started to do pop-up stores. This was free advertising or marketing for me. People were introduced to what Sboutiful is and what is special about it. It's fair trade, sustainable, and made locally by African designers. It's unique. It's Afrotopia; it's Afropunk; it's me and it's us. 
My customers are mostly White so that is different than what I wanted from the beginning. But everyone who buys something from Sboutiful gets an explanation. I'm not just telling the story of the designer; you learn that you're buying from a Black African who is making things by hand in a sustainable way. I'm also creating an awareness of the creative scene in Africa because a lot of people don't know about it or don't want to think about it. Some people have never been there but [still] have this picture of Africa. And it is not a country—it is a continent. So Sboutiful is all of those things combined with buying an item.
Is your next chapter connected to Sboutiful?
Yes. Thierno Diallo is an artist in Berlin from West Africa, Guinea-Conakry and his label is Wear Fula. He went into be'kech because he saw the Sboutiful pop-up there and Louna introduced us. Now we're collaborating. He has an amazing vision. He says about fabrics:
'I really don't like prints with the colonized background, Holland and stuff. In West Africa, we have this tradition especially in textiles such as Leppi in Guinea, Bogolan in Mali, and Faso Dan Fani in Burkina Faso. These fabrics are specifically woven by women; they are made out of narrow strips that have been sewn together. Bogolan, Leppi, and Faso Dan Fani have magical qualities. They absorb dangerous mystical forces and provide protection from bad spirits. Not only that but we make the cotton ourselves: growing it, selecting it, spinning and weaving it—the whole process. We also weave meaningful symbols into the patterns.'
I think this is so important because through colonialism, [these traditions] were destroyed or forgotten in the diaspora and in Europe. Thierno is so into it, he is doing all of this research. He is an architect and as far as I understand it, this project is also about architecture and [these] symbols. We plan to combine these elements in a future collection.
It's something new for both of us. I've done a clothing collection before with my mom in Morocco. That was really good because my mom loves fashion, and she especially loves designing and sewing. But for him and me, it's our first time doing this kind of idea and in a new country too. Everything will be produced in Dakar. Initially, our mission was to find a production house, a collective of women who are sewing whom we pay fairly—which is absolutely normal—and create something new.
Update: Now Dakar is our hub where the textiles from Mali, Ghana, Burkina Faso and Guinea-Conakry arrive and will be tailored by the most amazingly talented Kalipe of Jakk Streetwear.
Will the clothing line be women's wear or for all genders?
All genders. I know many people who've been working for twenty years in the fashion industry. These friends are my vitamin B. I can talk to them and ask, 'Hey, do you think this cut will be cool over the next years?' I'm not a fan of seasons or genders or size. I am done with S, M, L. Come on! Wear it and wear it with attitude (or body language) and pride and you can wear all kinds of sizes. So it's going to be one size and definitely oversized. With some small [adjustments] you can make it suitable for your body. It's going to be Afropolitan and Afrofuturistic—this kind of style—and Afropunk is my vision for this first collection.
Are you going to Dakar to develop a specific line? What will it be called?
Yes. The name is Sboutiful'A. The first collection should be finished this summer. And we're not talking about 100 pieces—every item is going to be unique. We'll have pop-ups to introduce it in Europe, especially in Germany.
Will you still run Sboutiful?
I don't have an online shop so I'm officially on a break but I've shared everything with my Sboutiful family. My next pop-up in Mannheim will be with both Sboutiful'A and Sboutiful, probably in the summer of 2020. 
Will you also look for designers to complement Sboutiful'A?
Yes, that's the ideal [outcome]. Sboutiful'A is the focus but I plan to meet designers later to start a second collection. There is also the question of shipping. But friends will visit Dakar and Thierno plans to move to Senegal with his wife in two years.
Everything is lining up.
That's how it feels! That is why I am so grateful—sometimes I am speechless. Apparently, it is the right time for me to do this. It is a blessing.
When did this come together?
About four to five months ago (spring/summer of 2019). I live in a very old building in Mannheim and I heat my apartment with wood. There were very cold days and I was looking at the oven and thought, 'Listen Asmaa, this is going to be the last winter. I'm not going to spend this year's winter in Germany. I'm done.' That's when I made that one decision, which was apparently very important—then everything came up. Okay, where did I want to go? I was done with Europe because of the topic of anti-racism and what I've been doing for the last couple years. I'm done with Eurocentrism. I need Afrocentrism again in my life. I forgot that I lost it. I know it's inside me but I need to be there [in Africa].
I can imagine that you need to feed that part of you, especially since you always draw from yourself while working in anti-racism and education. It must be exhausting.
It is frustrating too. At some point friends of mine told me, 'Asmaa, I do not recognize you anymore. You are so stiff and so hard.' That's what frustration does to you, especially with a topic that is so systematic.
Yes, our bodies respond to that. The body wants to protect us so we hold ourselves differently and energetically as well.
Absolutely. I was drained, 24 hours.
I can imagine. Does your cultural work overlap with the anti-racism and anti-discrimination work?
Yes. I am well established in the cultural scene in the south of Germany. I started an NGO in Mannheim for people of color with the aim of creating a cultural institution for Black people, from Black people. It's time to network and come together. We've planned a festival and the topic is visibility: to be visible as a person of color in a White society. We are done; I am done with explaining why a person is racist.
We're working with Sonya Lindfors, a dancer, performer, and director based in Helsinki. Last year we did a dance performance called Soft Variations with her as our mentor and we will present the piece again (now called Decolonized Dreaming) at the end of June in Mannheim. It was the first time Black artists, dancers, or performers were on stage and really owned the space in Mannheim—we took the stage for us, telling our story to us. In Berlin you can go to all kinds of events; in Mannheim there is nothing so we are not visible yet. We've started to have some conversations [that are headed] in the right direction but there is still a long way to go. 
With UMOJA, we are putting on a dance performance in June or July, which I am also in. I'm also applying to [Dak'Art, the African contemporary art] biennial in Senegal. I hope I can do both.
Everything is interconnected. The work you do is very much you—it stems from what you're interested in and what you feel.
Yes and even the subtext of Sboutiful'A is decolonization: taking back what was ours and therefore not using wax (prints) anymore, but rather going back to the roots.
What are your motivations for working with Black people and people of color and making sure your designers and collaborators are from Africa or from the diaspora?
My motivation? It's me. I consider myself an African queen. It depends on who is in front of me. Sometimes I say I'm Moroccan or African but most of the time I tell people, 'Don't ask me where I am from, ask me where I am a local.' Because I only live in places where I can be a local, which is a very privileged position.
Update: Now after four months of living in Dakar, I wish to respect and live in the most local way possible. But that doesn't work all the time so my mission is to respect and accept the situations, [circumstances], and place I am living in. 
Do you only live in places where you can be read as a local?
Yes and no. I would rather say that I feel more comfortable in an African country where I am surrounded by Black and brown people. I feel more connected in those countries. I feel more inspired and balanced. That's where I feel at home and accepted and maybe that's one of the reasons why I choose to live on the continent (which is a really privileged position) instead of in a mainly White 'superior' country, like Germany. I think the future is having a circular identity. Identity is way more than one country, one place, and we need to start moving in that direction. We need to show manyness more than one singular thing. We as Black people are resilient. 
I'm trying to learn Wolof or Lebu Wolof so I can have face-to-face conversations in Dakar. I don't want to learn another colonists' language (like French) in Senegal. I know the difference as I speak Darija in Morocco, not French. I want to be with the people who are born and raised and living in the culture—the people who are part of the tradition and culture.
I can easily get a jacket designed by a White person here. But it is very rare to get one from a person of color or from a Black person; I really have to look. I want to support Black-owned businesses and focus on creating something together, to rise up together. In Germany we've learned through the education system to separate and to be better than our neighbors instead of sharing our skills and lifting up each other. This problem is fundamentally societal—hence our institutional racism. It's time to connect again (especially as a diaspora in Europe), go to Africa, and have this exchange. My mission is to create a bridge between the African diaspora and the continent. 
There are these three circles I like to describe: in the middle is the comfort zone and around that is the learning zone and then the panic zone. The comfort zone is being here in Berlin—at least for me. I know the language; I get along; I understand the system. The learning zone is okay. For example, I want to learn Wolof so I can go and try something new but I can still jump back into the comfort zone. My favorite zone is the panic zone. I don't know anything; I am totally confronted by life. The panic zone creates the most amazing stories that I will keep forever inside me. I will never forget those moments and stories—and I am very liable to forget things. That's why I love the panic zone and that's why I [chose] Dakar.
This Saturday, you can preview Asmaa and Thierno's new collection Sboutiful'A at the opening of Oyoun in Berlin. 
Oyoun – Kultur NeuDenken x be'kech
16:00-23:30h
Check the event listing here for details and updates (given the current situation).