Share
I first met British-born founder and designer Melanie Brown of BYBROWN in the summer of 2012. I discovered her atelier in Amsterdam's Jordaan neighborhood one evening when it was already closed. I made a point to visit during opening hours and have been an ardent fan of BYBROWN (and Melanie) ever since. Her style and sensibilities resonate, and she puts forward strong, sensuous silhouettes that are elegant with an edge.
Melanie is of a rare breed of fashion designers, as she has a deep knowledge of tailoring and patternmaking in addition to her fashion degree from the Rietveld Academie. These combined abilities/insights along with a carefully considered and conscious design practice result in her work being strikingly beautiful, impeccably cut, and sustainable.
The last time Melanie and I spoke in depth about her process, she was preparing to unveil the Raindress (a rain garment designed expressly for cyclists) during her label's presentation at Amsterdam Fashion Week Spring/Summer 2015. It's been lovely tracking the brand and its evolution from women's wear to rainwear over time. I've been curious to learn if and how Melanie's design process has changed and in March of this year, we caught up in her atelier in Amsterdam.
When we last spoke in 2014, you were exploring water as the main inspiration for your collection.
Yes I was, because that was when I showed the collection at Fashion Week. I based that collection on the properties of the water molecule. It's definitely progressed and water has stayed as a very important inspiration for the brand. I think it really makes sense because it is so much a part of our world and of us. It's essential. Also because we do rainwear it's really essential for us in terms of its properties and how it affects our living and our society.
Did you do a lot of testing in terms of rainfall when you were developing the Raindress?
Yes. Many a time I've stood under the shower in the Raindress as well. Lots of testing and it took us a long time to find the right material, the right production, and the right design. It took us two years all together.
Actually the clients were very much a part of the whole process because I was working in a shop/studio [at the beginning]. So they'd come in and I'd be working on the Raindress. I'd try it on and ask for their opinion. I really like that organic way of working—it's a process that more people are involved in to get the final design.
Where is the Raindress now in terms of the material?
At the moment, the Raindress is made from a type of polyester. It is bluesign® approved, which means that it is made in a responsible way for the environment and for the people who work in the factories. But the material I am using is still linear; you can't recycle it because it's got some polyurethane in the membrane, which is the part that makes it waterproof.
I am in the process of developing a recyclable raincoat. I already have a prototype made of 100% polyester. A German firm has developed a membrane that is polyester instead of polyurethane, which is really cool. I made the prototype and got the actual recyclable article together about one and a half years ago but it's about putting the whole business plan around that product in place, which I still have to develop in terms of branding. Because it's about how you're going to get those coats back to shred them and make them into new coats—or it doesn't necessarily have to be a new coat. I'm quite into the idea of cross-industry so it can go into some other kind of industry—but that's a whole other area that needs to be explored and sorted out before you can put that circularity into place.
We often forget that.
People don't [realize] in terms of recycling that there is such a tiny percentage of things that are actually recycled and [within that] textiles that are recycled. And of that recycling, most of it isn't post-consumer; most is post-industrial. So we're talking about cut-offs from clothes during the production process as opposed to waste material from consumers. One of the problems with post-consumer waste is that there are lots of blends, and you can't recycle blends. So there's a huge amount of clothes that we wear that can't be recycled. They can be down-cycled, so they can be shredded and used for insulation material in the car industry and things like that. But their worth is a lot less in terms of recycling.
Why is that?
It's very difficult to get long fibers and if you have long fibers you have a stronger material. Recycled material made from mono materials has a higher quality.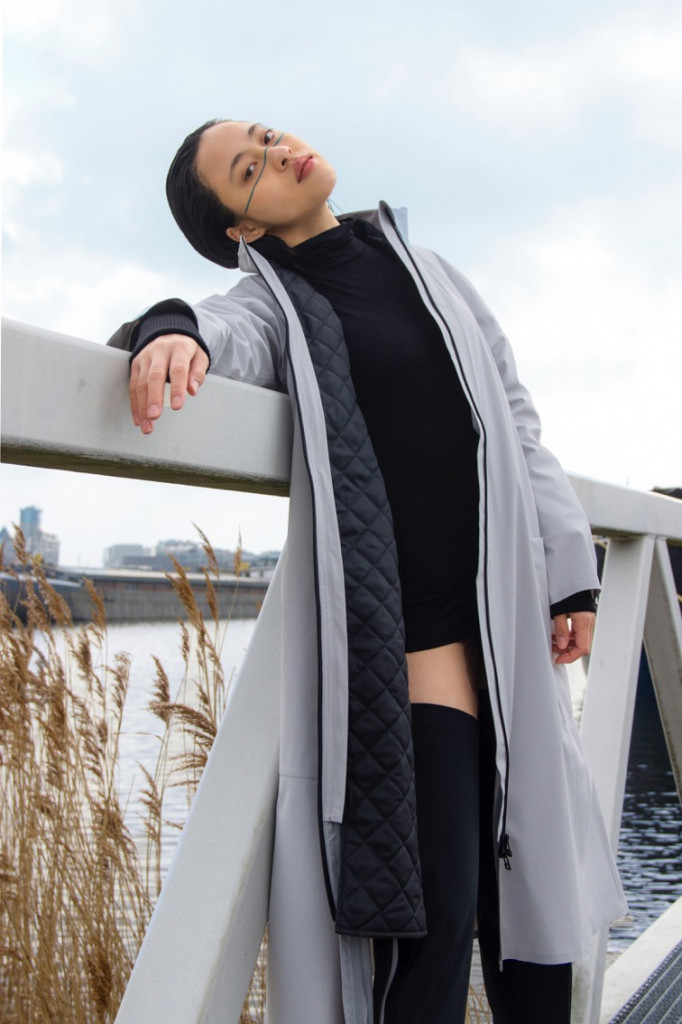 Where are you doing your production?
In Portugal, in a very nice family-run factory with about 60 women who work there. It's really cute because they all stop at 12 o'clock and go home for lunch, an hour. It's the mama and the papa and the kids and their spouses and they're all working together in a very family orientated business.
How did you find them?
It took me a long time to find them. In the end, I found them through my fabric supplier who gave me the name of somebody who knew somebody who knew somebody.
In terms of implementing recycling, do you already have the means to do it or are you still working on this?
No, some of the materials I use are recycled but I am still linear in that I don't have anything in place yet to get things back. That's another step.
Is that something you have to develop on your own?
No, you have to get partners involved because we're just one point in the whole chain. So if we get the coats back, we would then have to take them to a recycler who would chemically or mechanically break them down to be reused. If they've broken them down, a spinner would then be involved to make the fabric.
You worked with ReBlend (a Dutch circular fashion and textiles agency) in the past, are you still doing things with them?
No, I'm not but ReBlend is still going strong. For me it was extremely interesting to be part of the proof-of-concept section of the whole project. Once I had shown [that] these are the kinds of clothes you can make and this is the standard of fashion and design that you can get with this kind of material, I felt my job was done there.
What exactly was your collaboration with ReBlend?
ReBlend was set up by two women, Anita de Wit and Ellen Sillekens. Right from the beginning, they asked people to be partners. BYBROWN was one of the partners in terms of the realization of the product.
Did you have input in terms of the textiles?
We got the textiles from Sympany, which is the main gatherer of waste material in the Netherlands. Most of the recycling containers on the streets belong to Sympany. We used lots of sweaters and shirts where we knew there was a high degree of cotton in the blend as this would give better results. The first prototypes we made weren't 100% recycled post-consumer waste but [still] that [mix] was very difficult in terms of strength and quality. It looked beautiful but it wasn't practical in terms of upscaling. So when we did upscale it, we put 30% recycled PET from plastic bottles. That was good because we got a good quality yarn from it but then we were creating more blends. That is the story again and again in sustainability; it's just very difficult.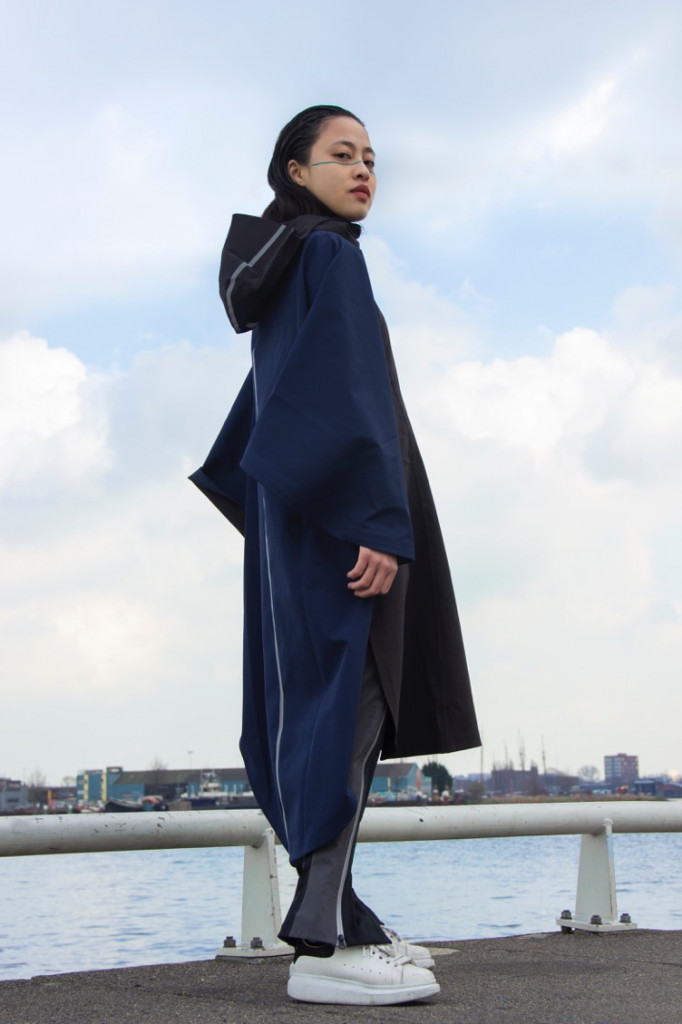 A lot of the time that's the way it works with sustainability. You think you're doing something that's really improving things but you realize that actually, it's not as ideal as you thought it was. It's still worth doing the project. [In this case] they were blends to start with but if you're trying to get a circular thing going, you're not making things that can then be recycled.
It's tricky, isn't it?
Yes, it's all very complicated. That's also the whole story of whether you're going to use natural products or whether you're going to use polyester, manmade, synthetic fibers. With BYBROWN we use synthetic fibers because of the nature of what we do: rainwear. A lot of people like purists would say, 'You shouldn't be doing that, you should be using natural fibers.' My stance on it is that we have got all this plastic and all this polyester and we've got to find ways of making it circular so that it can be used again and again. It is something that does not disappear. But we're really at the beginning stages of that. The whole world is at the beginning stages of sustainability in textiles.
It needs to get to a tipping point. You mentioned that in order to recycle your raincoats, you need partners. There need to be enough other brands that want to implement recyclability.
Definitely and the big companies—they have to invest a lot of money in new machines and facilities to enable them to recycle. That's quite a big investment and [undertaking] so you've got to have it all sorted it out.
Is there a good community for that in Amsterdam or in the Netherlands?
Yes, there are lots of people doing things. In terms of textile production there's not very much because all of the textile production that was part of the Netherlands has been taken and moved to low wage lands. When we wanted to do the spinning with ReBlend for example, we had to go to Spain. But there are people who are trying to bring it back. In Enschede they're doing quite a lot; there is Texperium (a center focused on textile recycling innovation) that wants to develop spinning. But I don't think it will ever be on a big mass industrial scale. Maybe it will. But I don't even know if that's important if the whole system changes in the way that I would like to see it change; then it would not be as important to have big industrial production.
How would you like to see it change?
I think it would be really nice if we all stopped consuming as much. That people didn't need so many clothes, that they saw clothes more as a kind of investment piece and they were willing to spend a bit more on something that was made on a smaller scale. That we change our whole way of thinking on clothes and what they mean to us.
Are you making clothing aside from the Raindress?
At the moment I'm not, I'm really concentrating on rainwear. I make clothes besides the Raindress; I've got other rainwear like raincoats and we're developing two 'ultimate' rain jackets.
People don't buy lots of rainwear. You buy rainwear thinking, 'Oh this will last me five, six years.' So you see it more as an investment piece, which is sustainable in itself.
And obviously you don't need to launder it.
But you can put it in the washing machine.
I don't agree with fast fashion but in some ways it is part of our society, it is there. But I think H&M is doing lots of development within fast fashion, they're doing lots of research, I believe, with the aim of circularity but I don't know how realistic that is!
That would require the customers to be very responsible with bringing things back. And we see how this goes with recycling…
But even the stuff that is recycled at the moment, there aren't the facilities to do very much with it. I think there are quite some things in Germany.
I believe they were early adopters but they're behind, at the moment. There's just too much—I was shocked by how much plastic packaging is used for food.
I went on holiday to Mexico City. There are 22 million people in Mexico City and they all drink their water from plastic bottles. Think about how much plastic they produce. Actually, the governments have got to get their infrastructure sorted out so people can drink water from the tap.
Yes!
How long has it been since you've been focused on rainwear?
Well I brought out the Raindress in November 2014, so it's been nearly 5 years.
How do you choose your colorways?
Because I am so small I have a limited color palette. It's not that I can choose lots of different colors because I am limited with my amounts. So I have three basic colors, black, blue, and grey. I have a dark green as well and hopefully I will be able to get some red in there.
Do you have a textile supplier in the Netherlands?
My textile supplier is in Taiwan but there's an agent here. But it's made in Taiwan because what I want to buy isn't produced in Europe. So then again I'm going to the other side of the world so then [there's] the carbon footprint. So it's about weighing [it all] up…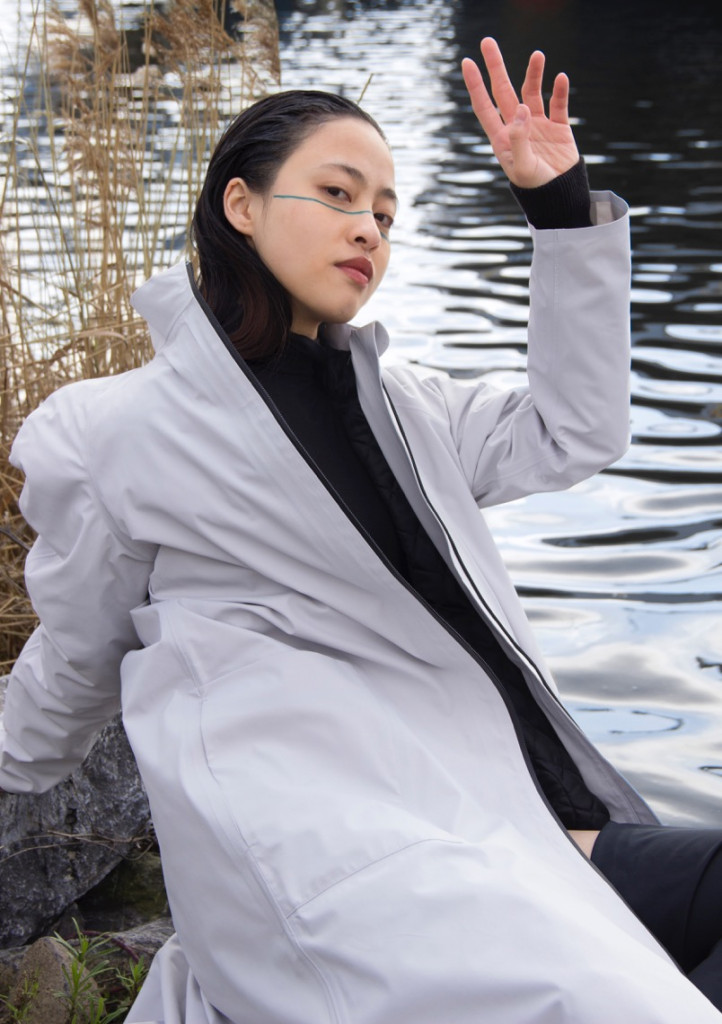 But it's better to have the beginnings of the solution…
Yes than to not do anything because you think oh…And they're producing one of the materials made from recycled coffee grounds and recycled polyester. The top [layer] is recycled polyester from bottles and then when they spin it, they spin in recycled coffee grounds. This gives the material extra qualities because it's good against UV protection, and it has a fast drying rate and odor control. It's very good but because it's got the polyurethane membrane, it will be difficult to recycle. It's something like 17% recycled polyester but I want to increase that percentage. When they do the next production for me, they will increase the amount of recycled polyester in the material.
What do you use this material for?
The green raincoats are made with this material. It's a really nice material: it feels lovely and it's a good weight. And it's beautifully waterproof and breathable.
Is it from the same producer?
Yes, it's from Taiwan. They have a patent on the coffee fabric.
Is this supplier moving towards sustainability? Is that something they're interested in?
Yes, they are definitely. The one I mentioned in Germany with the polyester membrane is on it. They're called Sympatex and they have a whole sustainable plan.
Can you speak about BYBROWN's range and where the label is headed?
The Raindress is engineered for cycling. It folds up into its own bag so it's very specific. But the other raincoats are more for everyday wear and we're working towards outerwear so that the idea is that you wear it as an everyday coat. It's not something like, 'oh, it's raining—I better put that on.' No, it's a beautiful functional coat that you wear the whole time. And it's not specifically for the rain; it's more outerwear. That's what we're working towards as a brand, offering the ultimate raincoat.
Would that have layers to insulate?
Yes, we've got this one. This grey one has got a lining that you can zip in and out so you can wear it in the winter and you can wear it in the summer. The lining is made from recyclable polyester.
It's a nice grey; it's quite soft.
Exactly—it's soft and fresh, the perfect grey.