Share
I was introduced to Utrecht-based Swedish designer Julia Otilia and her beautiful, carefully and consciously crafted jewelry through Giulia Bessone, founder and curator of The New Label Project in Amsterdam. Now closed, TNLP was a boutique that featured over 50 designers of unique, handcrafted fashion, jewelry, and accessories from around the world.
Julia's work incorporates organic elements from all around the globe and conveys something of the inspiration, solace, and deep connection the natural world offers. Her lovingly designed jewelry echoes the forms found in nature and is produced in Bali in thoughtful, fair, low-impact ways and assembled in Utrecht. In doing so, she imbues each item of jewelry with a quiet joy, peace, and calm. I visited Julia in her atelier/showroom this past February to learn more about her principles and process.
Would you say you've always made things?
Yes. My grandma recently showed me a box full of things I'd made for her when I was little. She kept everything: things with paper, sewing, and beadwork. When all the other children were running around wild, I would always sit in some corner making little things.
Growing up I was very creative. At some point I went traveling and spent a lot of time in nature. I was really inspired by all of nature's expressions: the forms, shapes, and materials. I fell in love with this. I needed this time to connect more with my soul and heart [after] growing up in society. I felt this urge to share it somehow; I wanted to express everything I'd been receiving and taking in but I didn't know how yet. Then I moved to Amsterdam; I felt it was time to engage more with life [and take a break] from being nomadic with the off-grid lifestyle.
I was happy to be in a city again. On a market, I found these gorgeous natural beads from the Amazon, mostly from Ecuador and Brazil. The beads come from a Stichting (foundation) that works with people in impoverished areas to polish, drill, and prepare them. I loved this idea and bought a lot of samples and started making things. Since I was into raw food and a natural lifestyle, I worked in a juice bar. I started wearing the jewelry there and people started to ask if they could buy them. On Queen's Day I sold the jewelry on the street on a little table and made a connection with my first store. Then Atelier Sukha wanted to sell it and I met Guilia (of TNLP)—that's how it really started.
I remember the owner of the juice bar said, 'I think you are selling more jewelry than juice. Maybe you should [figure out] what you want the most.' I thought, actually I love the meditation of making jewelry. I started feeling inspired to work with more material. I started to make drawings because I wanted to express organic shapes more, not just [through] the materials. A lot of people told me that I should go to Bali because they have an incredible history of very detailed silver craftsmanship and they are such humble people and also work mindfully. It's a beautiful place for this; it's a mecca for silver craft.
My father said, 'Let's go scout together!' We spent a month in Indonesia, mostly in Bali. There we came across a Swiss woman, a friend of a friend. Around 20 years ago, she set up a little fair atelier in Bali with just a few silversmiths. It's relatively small and she chooses people who work with their heart and have a good vision.
We had a great connection and decided to work together—since then I produce my jewelry there. They work with recycled silver and everybody is fairly paid. They also founded a school with a holistic philosophy. It is holistic in every way; they have their own garden. It's really integrating more ways of life. I love that this is connected to it.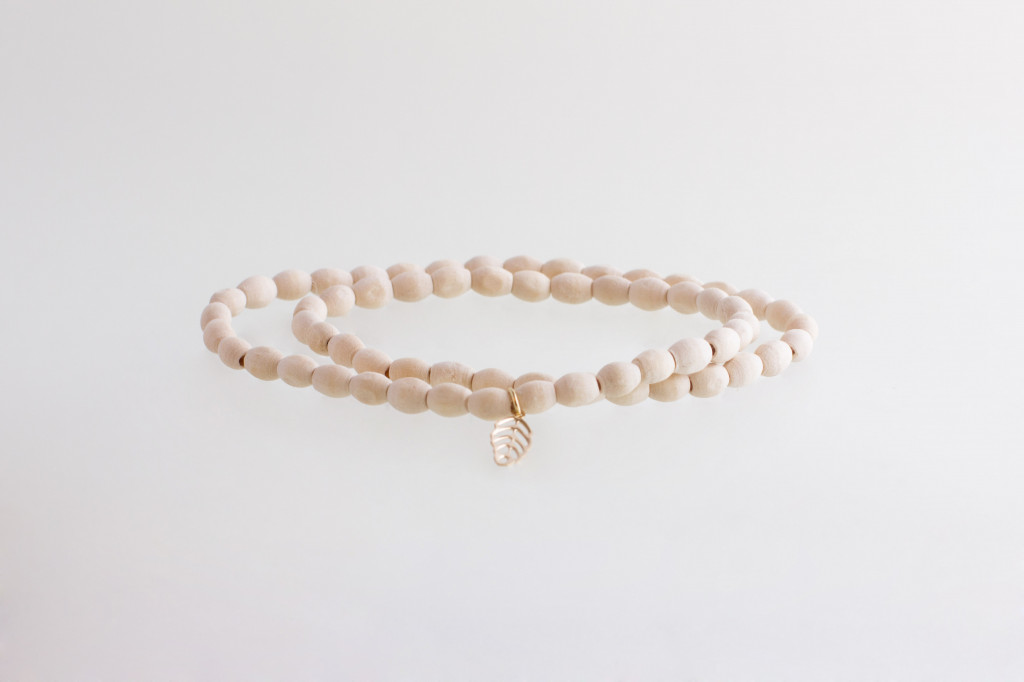 How do you develop your jewelry, do you make prototypes here?
I used to work with a young goldsmith here. I would come up with drawings and some folded paper and we would do the prototypes here. But for my latest collection, I've been mostly drawing and folding paper and a friend is helping transfer it all into computer programs. Since they are such precise shapes, we want it to be as perfect as possible. They will be handmade later (with a lot of variations) so we wanted the original prototypes to be as precise as possible.
Once they have the files in Bali, they make prototypes in silver either by hand or by casting with a wax mold. Many of the rings are cast so they are more identical. But there is a lot of hammering, polishing, and extra work to it.
Are the gold pieces gold-plated silver?
Yes they are. Unfortunately, gold-plating can never be fully sustainable because of the chemicals in the process but they do the plating as neatly as possible. And we gold-plate with 24 carats to make sure that it's really strong and you can wear it for years. A lot of people will still choose gold and if so, I want to give it in the best way possible. We aim to find a way to recycle gold. We use fair trade gold but it isn't easy to export it yet so we are still looking for the best way to do it.
It's not easy to export it from the source?
Exactly. When I've made samples here, I've imported fair trade gold but exporting it to Bali is very difficult. They often double the price with import taxes and some things disappear on the way—it's not easy. The local gold there is far too yellow and often not so pure. It's harder to know the source and the quality can't be guaranteed so they've said they don't want to use it. We work with an Italian woman in Bali who does the gold-plating and the quality is really good but the source for the gold could be better. We are working on that.
How long have you had the business for?
A little over three years, it's relatively new but a lot has happened—including a lot of learning. I started in Amsterdam simply by making beadwork so it's four years since then. When I moved to Utrecht it truly started with the studio and working with Bali for the custom and cast pieces. It's gradually become my own line. Before, it was more component work.
It seems that what drew you to making jewelry in the first place, these natural seeds, are still connected to your work. You create very organic shapes.
Yeah, it's still in there. I still use the seeds from Ecuador from the Stichting. I also use seeds from Indonesia that I bring back myself and I brought home seeds from India last year. I travel a lot and I really like to bring back materials.
So you collect them yourself.
Exactly, so I don't always know the source of the wood. But in some villages or places I find the raw material. I use sandalwood and tropical certified wood from Bali so it's sustainable. I also use wood from here.
With the naturally light colored wood, it becomes darker as you wear it. In the end it becomes light brown beige. I like that it's always shifting and aging over time.
Where it comes into contact with you. Exactly. How do you source your pearls?
They are from south China, and they are cultivated sweet water pearls. A man in Utrecht travels there every year to buy them on the market where they are collected from family farms. Then they are paid good prices for the pearls and the quality is good. It's not the way we imagine China with the big industrial ways—they are collected from small places.
And how did you find him?
I found him where they sell raw materials and I've been in contact with him over a few years. He's invited me to come along to see the place in China. For now I've been to a pearl farm in Lombok to learn about the procedure. They do it in a way that doesn't harm the oysters. They open them super gently and implant the little seeds in the tissue where the oyster doesn't have any nerves and then they put them back in the sea or the pools. They have to open the oyster to pull out the pearl and that's the step I do not like. I would still like to go to China but not for the pearls actually.
I think it's better to let nature be as it is. Eventually I wish to move towards being a completely vegan brand but for now I love the pearls and I have so many pearls in stock. They are still in the collection but I am not going to buy any more.
All of the metal jewelry is made with recycled silver as the base. And the [gold] rings are made with double micron, that's the thickness of the gold-plating. It can be one or more micron, but with some cheap jewelry the gold-plating is one quarter or a half micron and it comes off quickly. I use two micron for all of the rings so it will really be a good layer that stays and you can wear it for a long time.
When I've been working with the brand a little longer, my vision is to build up more customers' trust so I can make some things in real fair trade gold. I need to have customers who are willing to pay a little more for it. I think in the sustainable scene there are people who know the value of real gold and will be happy to pay for it but it will be in another price category.
Are the wood pieces made in Indonesia?
Yes. A craftsman in Bali makes them. Even these tiny little raindrop shapes are made by hand. They're so light.
The grain is very beautiful.
I especially love dark wood with gold and this lighter wood with silver is quite nice. I like to blend in nature but make something really delicate that is also quite raw. When I use leather, they are scrap pieces of leather from a woman in Arnhem. It's really nice to do cooperative projects. These pieces are from water buffalo in South Africa; they have a natural life in the outdoors. They're vegetable tanned and I buy them from an Indian family in Almere. They also provide me with cork.
I've also been scouting a bit because I'd love to make all of it in cork. I really want to make this a vegan brand. It's going in that direction with the sustainable gift-wrapping and the paper boxes I've made. Sometimes people use them to keep the jewelry in. Often they throw it away so I thought it was better to have something you can keep.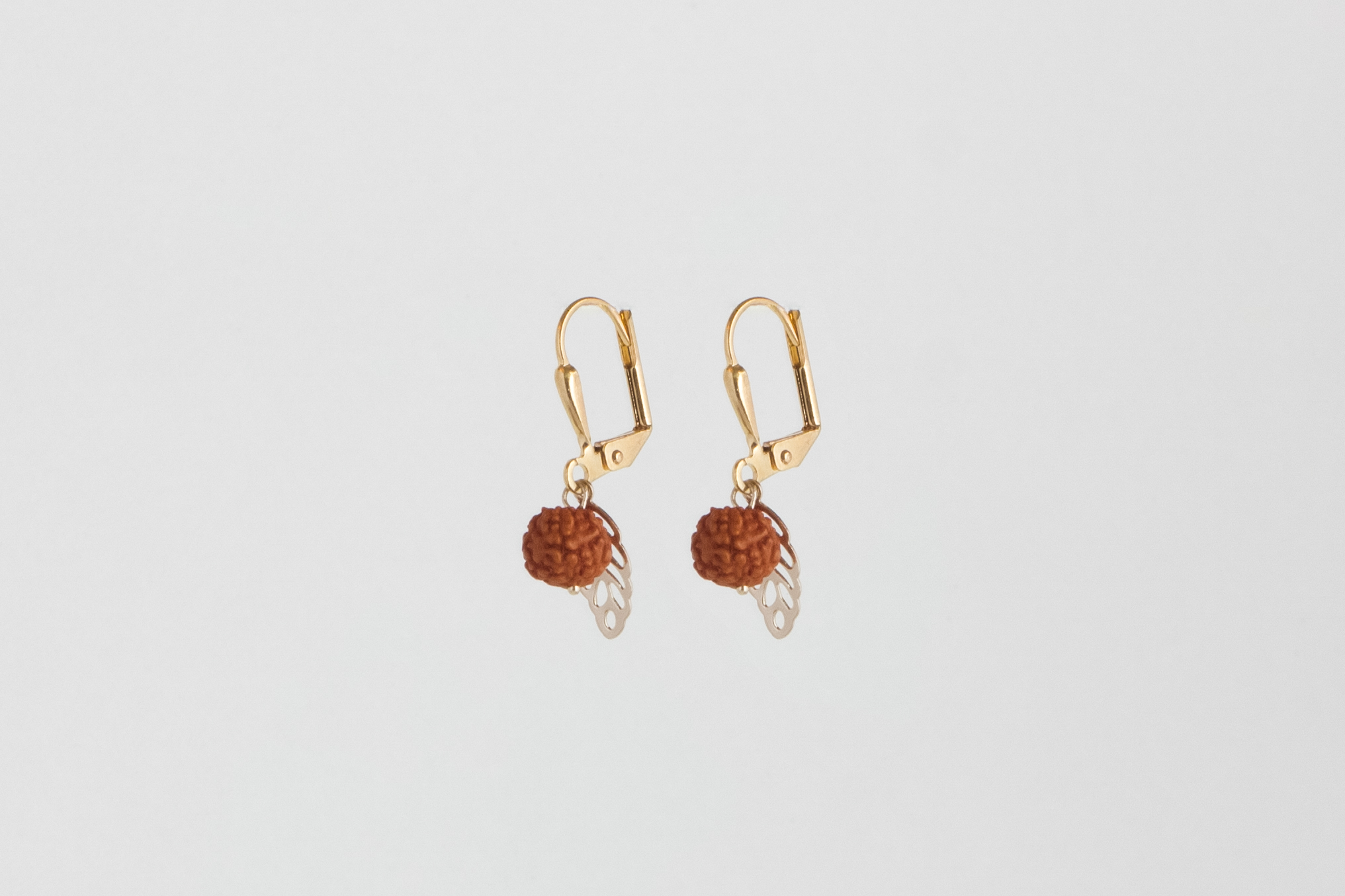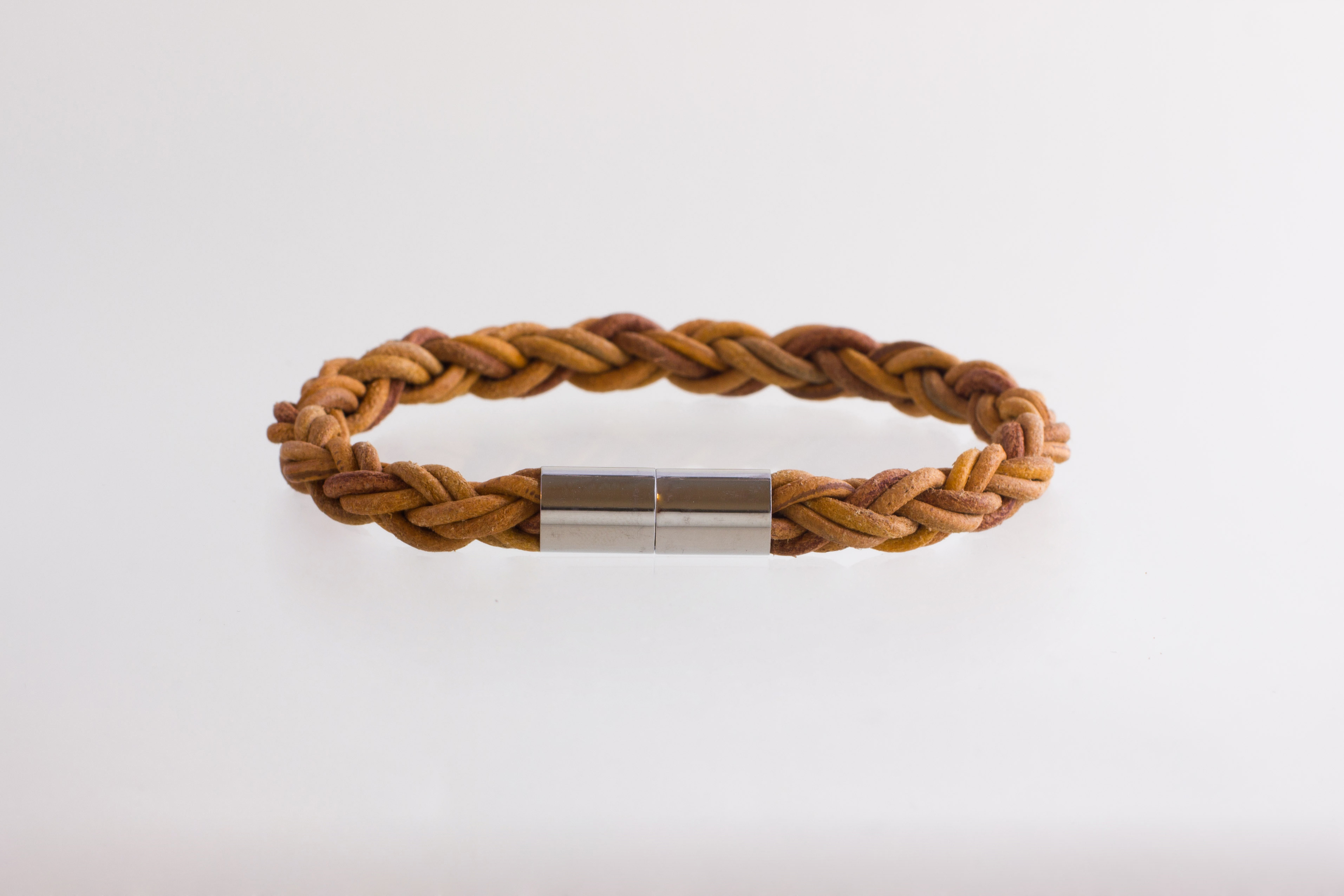 photos in carousel: Cindy van Rees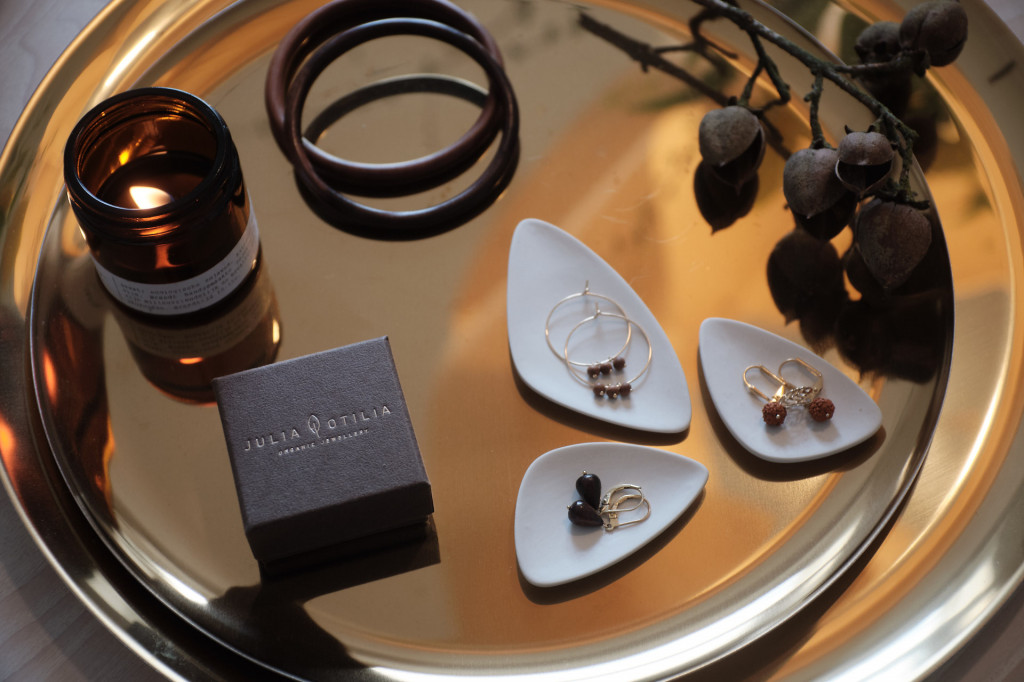 Do you work from this space? Yes. I do the assembling work here as well. Do you do all the work yourself?
I do. I also have a volunteer every Tuesday. Sometimes I have interns who also help with this. A lot of the puzzle is to find an equal size and shape with the beads. You get 40 of them and they're all different so you have to first spend a long time sorting them and finding what matches. This is the work I love the most, it's really the meditation work putting everything together. I try to do it as if it's a little prayer, to really put in the love when I make it—like a blessing for the receiver. I try to think in my way. Because I love the work so much I sometimes realize that I have too much work on the computer organizing something. So I'm trying to find ways to do more of the creative part again.
And connect with the handwork.
Exactly. Earlier this year, I made these porcelain dishes together with a friend who does ceramics.
Beautiful. I can see that they're your shapes.
Yes. The idea is that you place your little things there when you go to bed, to make it a little ritual to put in them in a good place before you go to sleep. You can group a few of them together to create your own little set. I realized how happy I was getting dirty and working with my hands. And it's so quiet. Also, the clay changes over time in the process of making. We are going to do more of these and I'm going to take a pottery course. I make time for sewing and things like this because it is most important to keep the artistic side running.
I imagine it's all quite meditative—the repetition and the hand-eye coordination…
I feel each time I make something I connect to the source of the daily rhythm, with the joy, with finding the materials, supporting the local people by purchasing the materials, and bringing everything together. It feels like a way to spread [that feeling]. It's human nature to capture that stuff. When we're in the city, when we're living this life here, [this process of making] brings attention to the tiniest moment. It makes me super present so I'm very grateful to do this. And I'm really focused now on keeping it slow fashion. I make my jewelry with the inspiration of the season instead of the rush of the fashion industry.