Share
Clothing has always been a way for me to connect with the cultural, familial, and individual/personal aspects of my identity. I grew up regaled with stories of my mom getting ready for the weekend and waiting for her outfit to be completed. One of my favorite stories is of her and her sisters going to church dressed in the latest fashions inspired by Milan, Paris, and New York. What I would give to travel back in time to see my mom and aunts in their Sunday outfits of mini skirts and matching chapel veils! If it was fashion, it was culture; it was something that was made with a lot of care and skill, and it was not vulgar. 
My grandmother or lola, the matriarch of my mother's family, was a much sought-after costurera (dressmaker) who dressed her clients in custom-made clothing of her design over the 60 plus years she was in business. Her artistry was evident in the grace with which she dressed her clients as they aged. It's always easier to dress the young and lithe. But to make a woman of 70 years plus look and feel elegant and gorgeous, one really needs to understand how the fabric falls and what flatters our bodies as they change over time.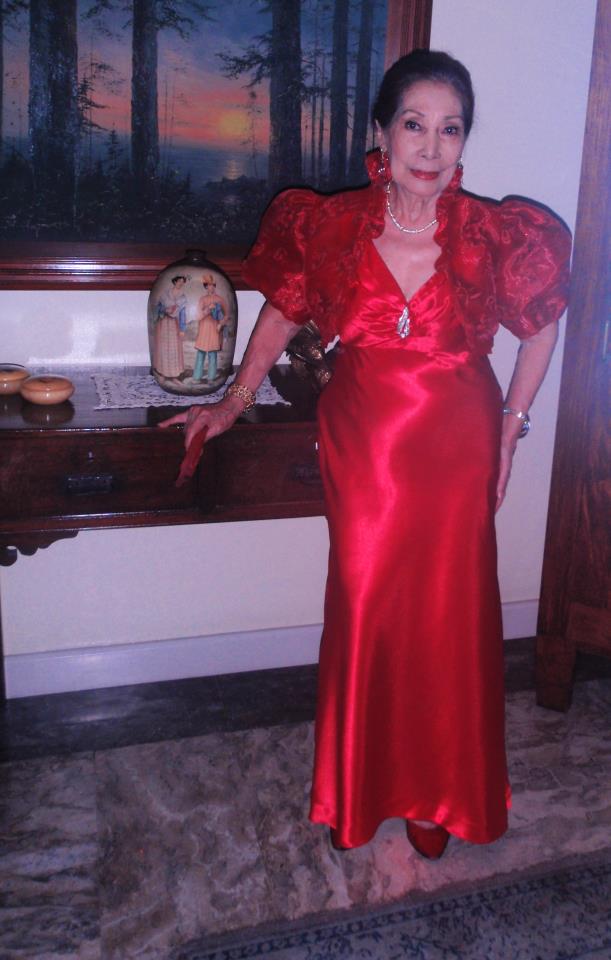 In the Philippines, where my family is from, it is still customary to have clothing made to order for special events and whatever else one desires and has the means for. My lola was the main breadwinner of the family, and her talents were a point of pride for our entire family. She studied with a great teacher, and quickly realized she could do it on her own. She started her business when she was 22, and it grew organically as word spread of her excellent work. She turned down the invitation to be the exclusive dressmaker to the First Lady because she enjoyed catering to her many customers, who often spanned several generations within a family. She dressed some clients their entire lives, all the way from infancy for their christening and on.
When I was growing up, "Shopping Lola" as we called my grandmother, would sweep into town, and fill our home in Philadelphia with not only her captivating personality, but with the many suitcases and boxes she had filled with gifts for family and friends, and supplies for her business back in Manila. I would accompany her on her trips to New York City to source lace, trimmings, and other haberdashery and I really cherished spending time together on these trips to seek out special things for her business. She was a force.
I will always remember her in her atelier cutting her sewing patterns out of newspaper freehand, using the creases and lines of the text as orientation. I idolized her, and wanted to study fashion design but was persuaded by my parents to study something more respectable or reliable (though I don't know that studying English literature and creative writing ticked those boxes either). But after graduating from college, I jumped right into studying textile and surface design and worked at a textile design studio, liaising between the clients and the in-house studio artists.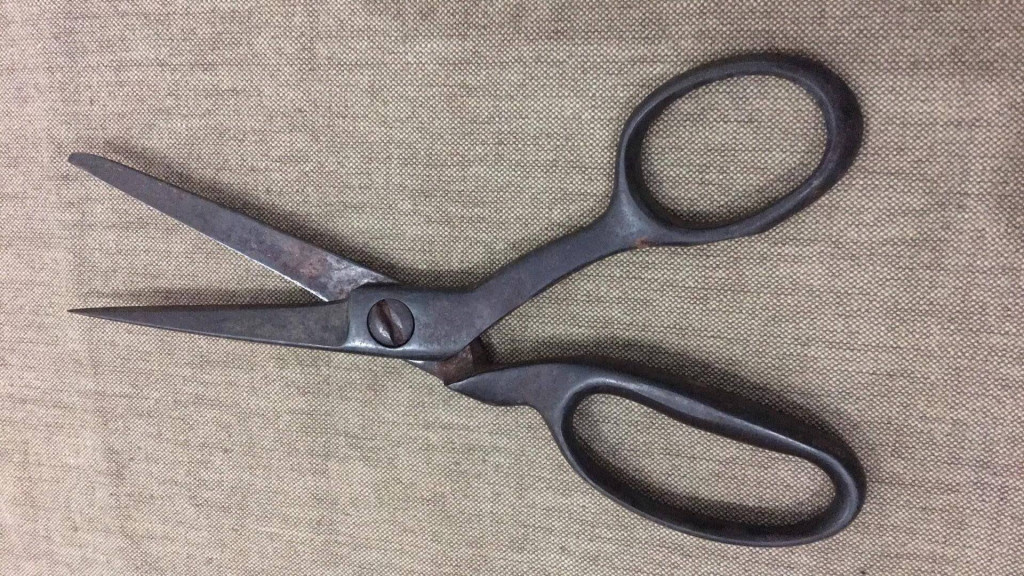 Every big occasion in my childhood (and some of my adulthood) has been marked with a specially made dress from someone in my mother's family, often my Tita (aunt) Nina. Two of my mom's sisters and one of her brothers also make clothing. My mom grew up wearing clothing made by her mother and once Tita Nina started sewing, she dressed my mom too.
When I was young, I often accompanied my mom shopping, and she taught me to inspect the finishing of every piece of clothing: the seams, hems, buttonholes, et cetera and the quality of the materials used. As soon as I made my own money as a teenager, I spent weekends combing thrift stores and raiding my mom's closet to find special pieces that couldn't be found at the mall. Growing up in Philadelphia as a first generation American, I would never quite fit in visually in my surroundings—and fashion became a way for me to reclaim that difference, and have fun with it. And I suppose every teenager (or one could argue, every human) makes a choice to either fit in or stand out with their style.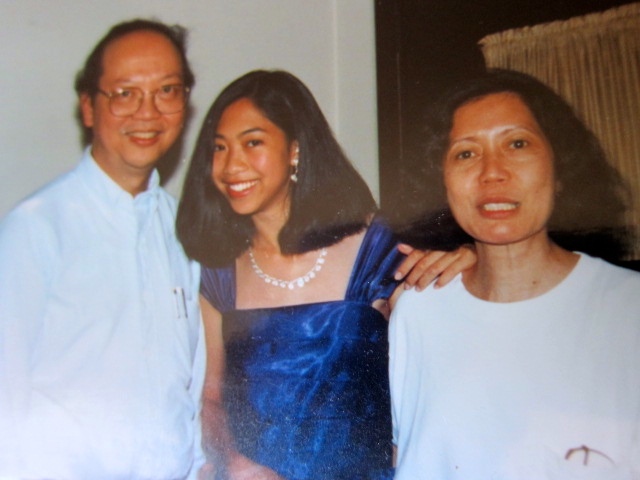 I have always loved clothing and felt deeply connected to this form of self-expression. I have a lifelong reverence for the people who make clothing, especially for those who make the patterns themselves and do bespoke work. I am always excited to discover someone who has the breadth of knowledge and skill to create clothing for people of all shapes and sizes. It can be quite difficult to find something off the rack that fits us—size or personality-wise—so it's great to have a tailor or better yet, a designer who makes custom clothing, in the back pocket for obtaining clothing that truly fits. 
My first prom dress was borrowed from my mom, a beautiful dark iris purple silk dress with a horizontally pleated bodice, wide straps, and a full skirt with a tulle underskirt. It was vaguely '50s and it was the only dress I could find that remotely fit me, and suited me as well. I can't remember if my lola or my tita Nina made it. My second prom dress was a short red chiffon swingy halter dress, which my tita made for me. I brought it back to Berlin two years ago and it hangs in my closet. I wish I still had every dress and piece of clothing that was made for me by my family. I really treasure the ones I still have and didn't wear to pieces, beyond repair.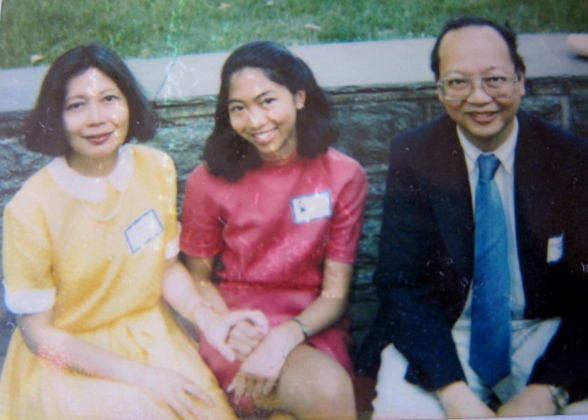 Here I'm wearing my mom's dress again, which my tita Nina made.
I'm grateful for all the women in my family who instilled this love of fashion, style, and individuality in me. They taught me that clothing is a way to provide, to excel, to express, and to empower one's self and others. Fashion, clothing, and style: they're in my blood, truly.  
Much love to my grandmothers, my aunts, and all the maternal figures in my life, and most especially to my mom. She's taught and influenced me more than I can say, but I know for certain that the reason why I wear a scarf nearly every day is because of her and her effortless way of wearing scarves. Thanks, Mom!