Share
When I was in Los Angeles this past fall, I met Belinda Kazanci, the lovely ebullient founder and designer of BEL KAZAN, in her atelier/boutique on Sunset Boulevard in Echo Park. It's very close to one of my LA haunts, Guisados, which I like to hit up weekly for tacos whenever I'm in town. I can't think of a better combination: delicious food and the vibrantly patterned, effortless silhouettes of BEL KAZAN. Both can make you ridiculously happy in a very immediate, uncomplicated way.
We sat down on a rare rainy morning and chatted about how BEL KAZAN came to be, and in what direction Belinda is taking the label.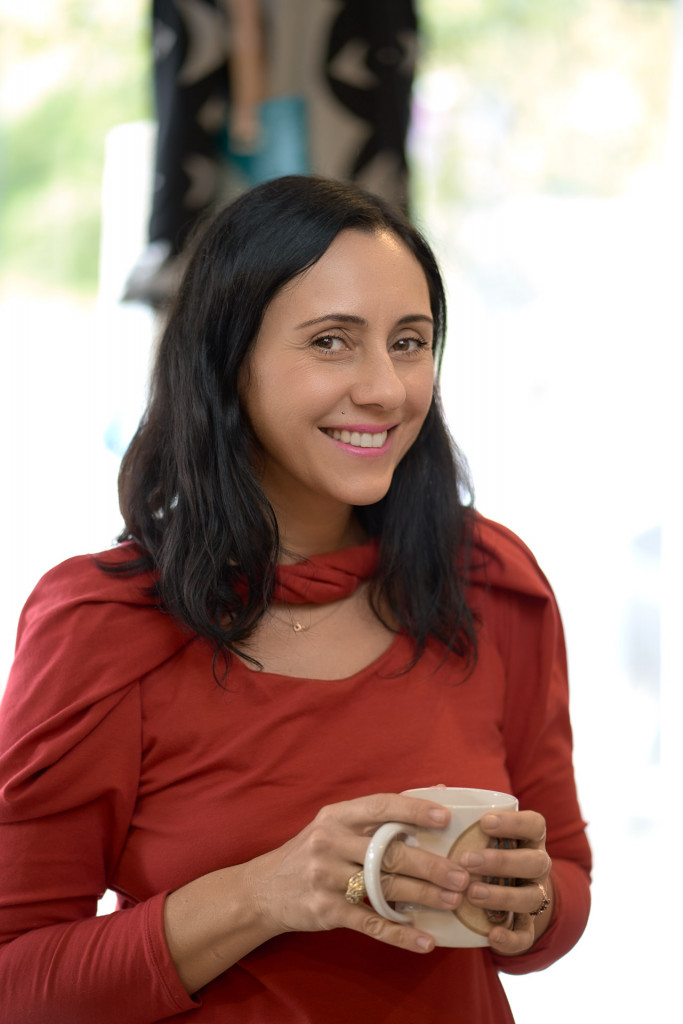 You mentioned you were a musician before, how did you get into designing clothing?
I've been a musician pretty much most of my life; I sing and write. I've had an electronic trip hop kind of band called Echocell for many years and I've always liked to create intricate costumes for stage. I've always loved fashion. My family was in the textile business in Turkey, both of my parents, and my grandparents on both sides. So I grew up around textiles my whole life, and different types of textiles—world textiles. I'd been doing music for a long time and I was looking for another creative outlet. People always said, 'You need to have a fashion brand, I love your style.' Then I met a woman who had a business in Bali and got the idea to start producing some things in Bali and then sell them here. That's how it started. It's been almost 15 years. I booked my first trip to Bali, started meeting people there, and created a business from the ground up.
Considering your family connection with textiles, it makes sense that your label's collections are very textile-driven in terms of the prints.
I grew up around Armenian and Turkish textiles so I've always been drawn to patterns, the intricacy of patterns, and the history behind them because they tell a story. When I discovered Javanese and Balinese batik, I fell in love with it. I thought I could bring in this Eastern influence by modernizing it and turning it into something more simple (in terms of color) and more relatable.
Is your print design done in-house in Los Angeles or is it done in Bali?
So the print design varies. I am not an illustrator but I like to work with different illustrators. I'll have a concept in mind or a mood board and approach some of the artists I work with. They send me ideas and then we collaborate back and forth until we come up with a [final] sketch. Eventually the digital design is turned into a screen in Bali where we hand print the fabric or it is turned into a copper print [stamp] and then we do a stamping of batik.
But it varies, sometimes it'll just be the artists; sometimes I'll work with a photo I took in Illustrator. Sometimes I take elements of a vintage print, change them, and add my own. The creative process of coming up the print comes from so many different angles, but it always results in something brand-new and original. We don't just take a print and make it. It's our own; that's why we copyright everything that we print—that we create.
In terms of silhouettes or fabric choices, are there certain things that you gravitate towards?
I definitely like more clean, modern, and versatile pieces. The textile choices are all about what's comfy and timeless. We make sure that whatever textile we use is going to stand the test of time. There is a quality element to it. We're not making disposable clothing that only lasts for a couple of seasons. The hope is that you keep this piece in your closet for a long time. Right now we are [increasingly] focused on using fabrics that are more sustainable and are better for the environment in terms of how they are made: less chemicals, more durable.
You mentioned you work with artists. Are they based in Bali or are they all over?
All over. I'm currently working with an artist based in Atlanta. I work with an artist based in Sri Lanka whom I met through Instagram of all places. He does a lot of batik, so I send him my ideas and he creates them in batik. He ships them (once we finalize everything) to Bali and then they work off of what he's created. I work with a lot of Australian textile designers and a lot of people I've met through Instagram, shockingly. We've worked with artists in Bali in the past. We're very open to working with different types of people and artists. Sometimes I collaborate with my partner; he's a graphic designer.
Do you have a workshop in Bali that does only your production?
When I first went to Bali, we worked with different factories. But a lot of our production would be delayed because we'd be in line with other brands. We realized that was not going to work for us because we have certain deadlines to meet. So we rented a space, hired some local sewers, and did some skill training to teach them certain things they didn't know already. Eventually we decided to build our own factory. We didn't want to rent anymore. A lot of the places we were renting were not the most suitable buildings. We wanted something that was more open-air and had all the amenities we needed. So we bought land in Bali and built a factory from the ground up.
We brought in people from a village called Klungkung on the east side of Bali, which is where my production manager is from. A lot of people in this village didn't have jobs and skills so most of our employees are from there. We gave them skills like how to cut fabric, how to do quality control, and hemming. My production manager's wife came on board and became our sample manager. We sent her to fashion school for one year. She didn't know anything about fashion before but she is now our top patternmaker and sample manager. So we slowly brought people in and started teaching them skills and now we have our own factory there.
A business built on personal relationships and investment in a community—is that something you set out to do?
You know, I fell in love with Bali. The minute I landed there, I just felt something really magical about it. They say there is an energy vortex and you definitely feel it. I just fell in love with the people and their kindness; they're so genuine and beautiful. These people whom I've been working with for almost 15 years (a lot have been working with me for over ten years), now we are family I feel. I take my son there and they all want to take care of him. I didn't know what I was actually putting myself into, really. But my love for the people and the culture kept drawing me back. Now I feel that I want to give back even more. I want to do more for the people that work for us and for their families. So we are working on programs right now.
Currently, we have a couple of programs; one is a loan program where our workers can borrow money and slowly pay it back through their paychecks. Also, we provide them lunch every day. We're working on a health plan right now. Slowly, we're finding ways to give back to the community that basically made us (the label) possible.
How many people work at the factory?
At the factory right now, we have about 15 people. We also employ women in villages that work in their own homes. Let's say we have a surplus of garments that need to be sewn and we cannot handle all of it in our factory. We will hand over garments to women in their home who for example, are taking care of their children and can sew during the night, and then we'll pick up the finished garments. Overall, about 35 people are employed through Bel Kazan, as well as a lot of freelancers.
What motivated you to open the flagship store in Los Angeles?
I've had an office in Echo Park for some time now and the area has been shifting. Some nice boutiques and coffee shops have come on board. A lot of friends would say, 'Can I just come by and see what you have?' and come in and shop. Eventually I realized that there was a demand for it. Also, I wanted to have a base in LA for people to shop at (other than the boutiques we sell to) because here we have our entire collection. And I will do a personal styling session with you when you come in.
Is the shift towards eco-fabrics a conscious decision on your part? It seems that you have this socially-minded business, with the connection with Bali and nature…
I think the brand has always been socially conscious and ethical in the sense that I've always ran a very lean production model, meaning we don't just make a bunch of product and try to sell it. That in and of itself is eco-conscious. We've always been a cut-to-order business and always found ways to up-cycle the scraps of fabric from our cuttings. We've always donated our scraps to villages where they're turned into children's clothing. Also, the Balinese weave the scraps into floor mats and use them for pillow stuffing. All of our scraps get used somehow; being in a 'Third World' country, the Balinese are amazing with that. Throwing away is not necessarily part of their culture; they always find a way to use something and we've always adopted that model.
Recently, I've been researching which fabrics are good for the environment and which are not. I've been learning a lot and I want to keep going with this because on a personal level, I have always cared about the environment and been conscious in my own home. I cloth-diaper my child and we're very conscious about what we purchase. I want to make that even more transparent in my business.
We are limited with fabric choices in Indonesia. Rayon is readily available in Indonesia so I've been using it for a long time. But now I've learned that it takes a lot of chemicals to make rayon so the way it's produced is not always good. For our rayon, we use factories that are more responsible and are OEKO-TEX certified. And some of our rayon comes from Lenzing (a major wood-based textile manufacturer, well-ranked regarding environmental concerns).
We want to go even further and use other fabrics that are responsibly produced and are not clearing a forest to make, like Tencel—which is made through a closed loop system. Slowly, we're shifting from rayon to hemp, Tencel, and organic cotton—because regular cotton is really bad for the environment. It uses a lot of pesticides to grow and quite a bit of water.
The more I learn, the more that shift is going to happen. Our prices will probably go up a little bit because unfortunately we don't live in a society where organic [goods] and things that are good for the environment are cheaper just yet. But if we set an example for the industry, slowly more people will use those fabrics. Then there will be a higher demand and prices will start to go down. And, people care about where things are coming from now.
Are all of your fabrics manufactured in Indonesia or the Far East?
Some of the [fibers] come from China but all of the fabric we purchase is from Indonesia. Linen requires a certain temperature to grow and cannot be grown in Indonesia, so they import the linen fiber from China but then it's woven in Indonesia.
Our goal is to set an example of being eco-conscious and socially conscious. We hope this will infiltrate other brands, especially bigger brands because we really need them to make the shift. We're just trying to be the best that we can be.