Share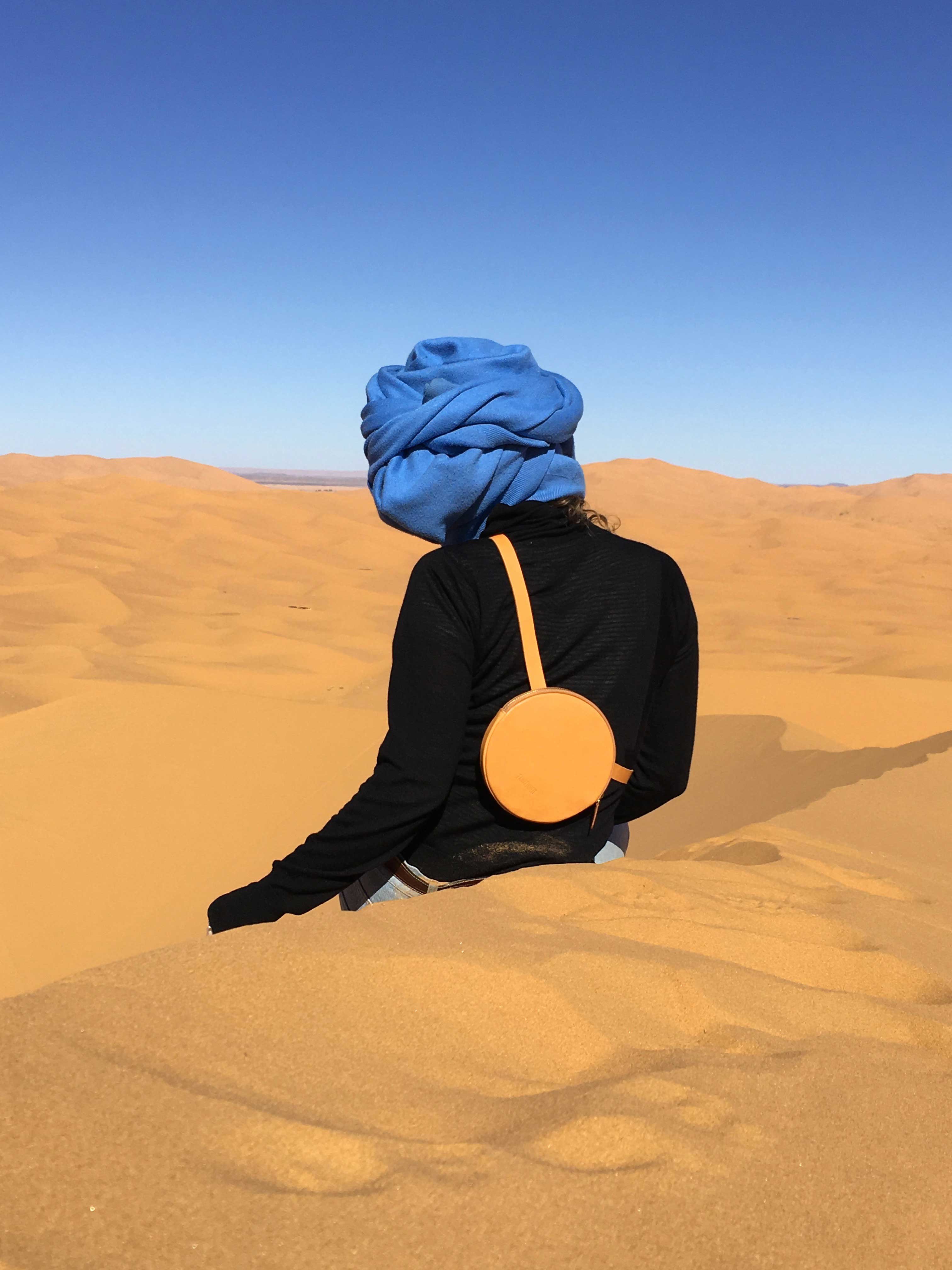 I met Andrea Otin a year ago in Barcelona when by chance I stumbled upon the concept store Nuovum near MACBA, the Barcelona Museum of Contemporary Art. Nuovum specializes in local designers. Andrea happened to be there and we chatted about her accessories line, FAHRENHEIT, which is characterized by soft lines and a refreshing absence of frills. Designed in Barcelona and made in Spain, the designs are clean without being sterile, and the color and finishes available are of the moment but will certainly hold up well. They are future classics.
I fell in love with the circle bag, whose strap can be worn separately as a belt. It is in heavy rotation for me as it's super versatile. I can wear it as a cross-body bag or as a bum bag and it fits a passport, sunglasses, and all the essentials. It's perfect for traveling or a night out, and can also be easily combined with a backpack or another larger tote; thus, it can take you from day to night seamlessly.
Exploration and travel are touchstones of FAHRENHEIT, as is the passage of time. As the website states, they "prioritize quality over quantity and believe it's worth dedicating time to the exploration of ideas, people, and places." This is also why they collaborate with people from diverse creative backgrounds.
Authenticity is also important, and the brand works with artisans whose techniques have been carried over for generations. The bags themselves are meant to develop a patina over time from daily use, thereby becoming "a unique piece and everyday companion."
Can you tell me about your accessories line?
Yes. We started five years ago; I started with a friend, Xenia Sanchez—she's my partner. In the beginning we were doing menswear but when we went to Holland to present it, to introduce it to the world, we decided to do a backpack. Suddenly, when we got back [to Barcelona], the backpack was the most important thing that we did. Because it was the most successful thing, we decided to quit the clothing and to just do bags.
From there we started to explore this world because I didn't know anything about it. My whole life I was doing clothing. So suddenly I started to be more interested in accessories and I started to work with leather, to treat it, to work with different volumes, and to play with it, actually. Then we decided to do the brand. In the beginning, I worked with different companies as a freelance designer, and did the brand. After three years, I started to just do the brand.
Did you study fashion design?
Yes. I did fashion design, four years here, and then I went to Holland to finish the degree—to Rotterdam.
Where did you study?
At the Willem de Kooning Academy. You know it?
I have friends who've studied there. I've lived in Amsterdam. I'd go back to the Netherlands in a heartbeat, actually.
I love it. It's one of the countries where I felt that the people were really nice, at least with me. For me, it was one of the most inspiring times of my life—that whole year. And actually, I was not doing fashion there; I was doing photography and illustration.
I finished [my main discipline] here but I had some subjects to finish so I was like, okay I will finish there. I did the other subjects, because in the end, I love art. And I love to design everything, to create stuff and not just fashion, you know? That's the point.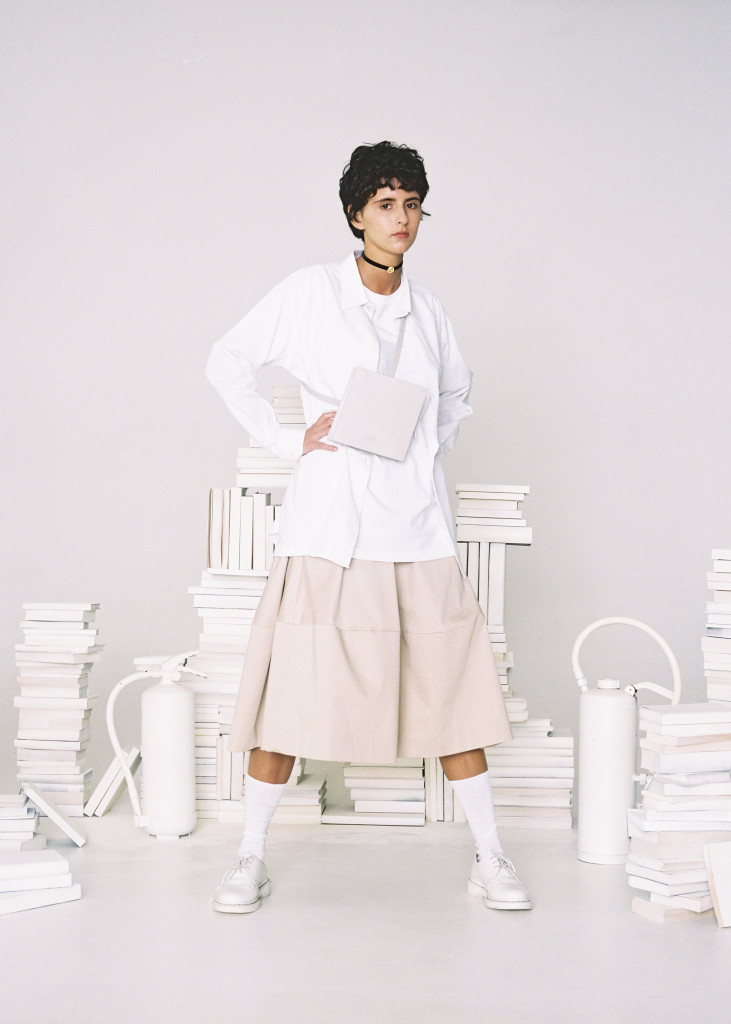 4,51º Bag, developed in collaboration with the architect Philipp Burst.
Where did the name FAHRENHEIT come from?
This was because one of my favorite novels is Fahrenheit 451 by Ray Bradbury. When I was talking with Xenia, the friend that I started the brand with, [I discovered] it was really a good novel for her too. So then we decided: amazing—let's use FAHRENHEIT as the name.
After three years, Xenia started to do styling in advertising so she needed to dedicate a lot of time to her work. I am the one who is taking care of the brand now.
So your partner is out completely?
She is quite out right now because she has a lot of work in her field. But every time she is free, she comes to the studio to help me and to see what's new, to share ideas, et cetera…
But for the most part it's yours.
Well, I am the one who is here every day, but I have some collaborators also. Without their help, it would be really difficult.
Which is nice, I imagine.
Yeah totally, it is impossible to do everything [myself]. Now we have an intern too from the States, from Minnesota.
Where do you find and source your leather?
All the leather is from Spain, except one kind that we just found in Italy.
Is the leather you use vegetable tanned?
More than half of our collection is vegetable tanned, but our goal is to have it all be vegetable tanned as soon as we can.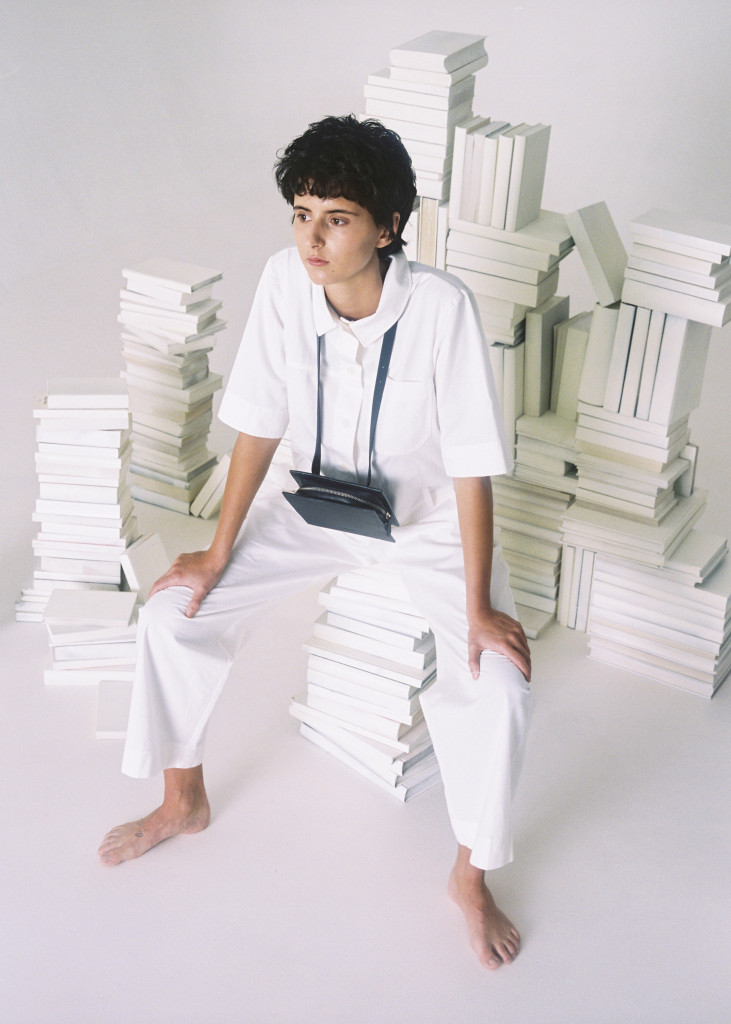 And where you do your manufacturing?
I do everything in Spain. I just do the big leather goods in Barcelona because the supplier I have here is just amazing. He does it perfectly. And it's really nice to work with him; it's easy. I have an idea and we develop it together. They have a lot of knowledge and I really like to listen to them and [for them] to be involved in the process.
The small leather goods we do in the south of Spain, in Ubrique. It's the city of leather over there. There are families [where] the son is working in leather, the father was working in leather, the grandfather, you know, this kind of thing. Super. Every time I go there, a part of the city smells like leather. Everyone knows a lot and you learn so much and it's super interesting.
How did you find your producers there?
First I did research online and then I went there by myself and had different meetings. In the end I had these companies meet with the supplier I have right now. And I liked them and we understood each other, and the deadlines and the quality they made—everything was really good. So at the end we worked together, for a year now. We started to work with another supplier from there too, because we are quite fast somehow. While we are producing, we develop other prototypes for the next collection. Sometimes, because the companies are not that big, if they have a lot of production for other clients and for my collections, then they have to stop working on the prototype.
And you need to be able to continue developing.
Exactly, so that's why we started working with another one.
How far is Ubrique from Barcelona?
By plane, it's one hour. I go there by plane. It's next to Seville. It doesn't have an airport over there, because it's a tiny city. But you fly to Jerez or Seville and then by car, it's 40 minutes from there. And it's a beautiful town. There are the ten white towns of Andalusia, and this is one of them. So it's also beautiful, it's not just like going to an industrial place.
Also, it's a way of life that people have had for generations.
This is super interesting.
It's so special, especially in this world and in these times.
Yeah, it's missing somehow, this kind of thing.
Well it's like you said, this kind of manufacturing was once possible in Barcelona but then somehow wasn't kept up.
And many tanneries here closed; just the biggest ones survived. Because of the huge companies, the Zaras, the H&Ms and all of this. They produce leather with [the lowest prices], so in the end they buy in Bangladesh or in China. Actually the small tanneries here survive because of the small brands, not because of the big brands. The small helps the small, the big helps the big—this is how it works sometimes.
I think so. Well, Inditex is the biggest.
Yes, we call it the monster; the fashion monster that we have in Spain. I was working for them when I finished my degree, for around three years. I learned a lot but I also learned what I didn't want to do. So I quit. I was earning much more than what I'm earning now. But I am happy now, and I wasn't before. I chose to have less money but to be happier and see the sun, instead of the fluorescent light [in the office].
Yes, I can understand that choice. It's remarkable what companies like Inditex are doing to the environment but also to people's lives on so many levels—the way people are impoverished in all these places, like Bangladesh. All these women…A woman buying fast fashion means another woman is practically starving, working long hours in very poor health. It has such a human impact.
And actually, when people are buying, they're not really thinking. They just think that they are buying a coat for ten euros, instead of buying it for 40 euros. And this makes them happy.
What I try to say with my brand is more about [how] we prioritize the quality over the quantity. So we don't kill our collection after six months. We try to do something timeless. You can use it today, tomorrow, the next year, in five years, and it's not going to be like 'Oh no, I'm wearing animal print, this is so over.' And in the end, it's just doing nice stuff with good quality.
Of course I am a fashion designer, I am buying fashion but I try to be responsible. I prefer to buy one bag that I'm going to use for five years rather than three bags every season. We have a phrase in Spain (it probably exists in English too): 'The cheap things will be more expensive in the end.'
In the end, cheap fast fashion will be more expensive.